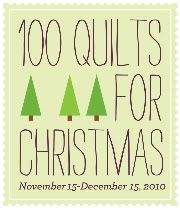 Quilters as a group are some of the best people. I know I'm slightly biased in this statement, but I continue to witness so many acts of kindness among quilters and I am so inspired.
And here's another opportunity to prove me right:
Kate of SewBikeQuilt
and
Aunt Spicy
are hosting an opportunity to give back to your local community. It's the perfect opportunity to pull out those old WIP's and give them a loving home. And just to make it more fun (because quilters are also a fun bunch) prizes and giveaways are involved. I recently found a quilt top I made a while ago that never got finished - thanks Kate and Spicy for the motivation to get it out of one of my many piles and give it to someone who would use and need it. Click on the button above for all the details.
If your time for creating quilts is short this busy time of year, but you'd still like the opportunity to give to a meaningful cause (and get some beautiful quilts in the process!) please visit
AmericanQuilting.blogspot.com
. The American Quilting shop in Orem, Utah is raising money for the Paul Peterson Cancer Fund by hosting a silent auction of a few dozen of their sample quilts from the past few years. 100% of the proceeds go to the Paul Peterson family.
These quilts are all hand made and beautifully machine quilted. There will be eight new quilts each week until December 30. Go to the
AmericanQuilting blog
for more details and pictures of the new quilts each week. Stop by the shop or call 801-802-7841 for more information.
I'm feeling a little peeved at Cancer today. Along with the
loss of my friend Allison's husband
last month, this weekend I got the news of my sweet friend Jen's diagnosis with leukemia. In less than 4 days she went from not feeling great, getting admitted to the hospital, being diagnosed, and starting chemo on Monday. It happened that fast! Jen introduced me to fellow kindred spirit and anglophile, Aunt Spicy last year and I had a hilarious
thrifting adventure
with them when I was visiting family in Maryland last summer. I love you JR! Keep fighting - my prayers are with you!
And finally, while we're on the top of praising fighters: Happy Veterans Day/Remembrance Day. (This was my son's PTA Reflections Contest entry this year. The theme was "Together we can. . . " and he choose: "Together we can remember people who died in the army to protect our freedom.")
Many thanks to the men and women and their families (in countries everywhere) who sacrifice so much for the well-being of others - especially those who have made the ultimate sacrifice. God bless you all.