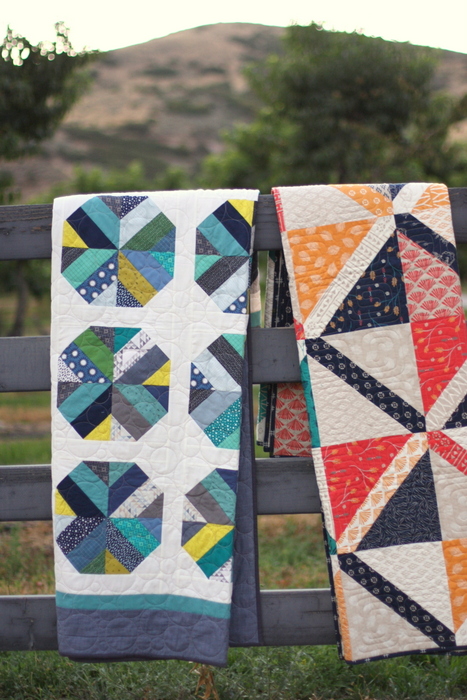 I finally got out this weekend to get some pictures of a couple of my favorite quilts I made this past spring. I haven't had a chance to shoot and share them individually and decided to finally do so.
*post contains affiliate link
They are my Gumballs and Large Cross-hatch quilt. Both quilts were original patterns for my Craftsy class Pre-Cuts Short-Cuts  that came out in May.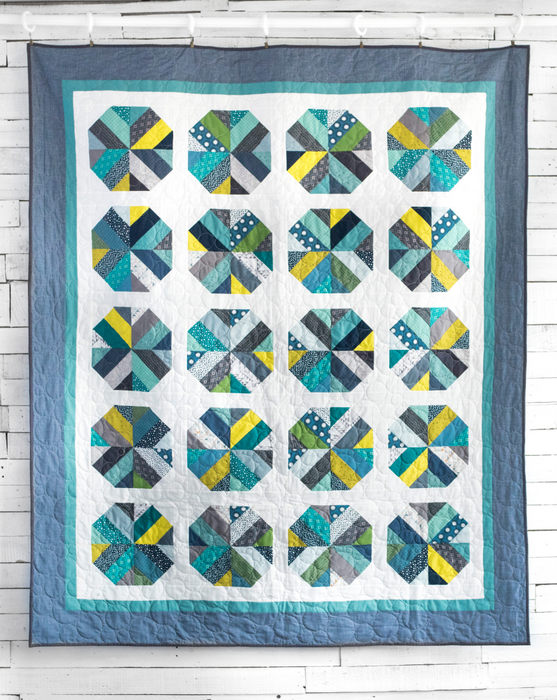 I think the Gumballs quilt is one of my recent favorites over all. I've had this idea sketched out for a while now and it was so fun to finally take it from a sketch and put it into fabric. It's a great pattern for using pre-cut 2 1/2″ strips. And the scrappier the better.
I'm also digging how the colors and fabrics work together in this one. I used two 2 1/2″ roll-ups from Robert Kaufman, pulled the darker, more saturated colors from a Pacific Cool roll-up from Elizabeth Hartman and a Studio Stash in cool from Jennifer Sampou roll-up and mixed them together.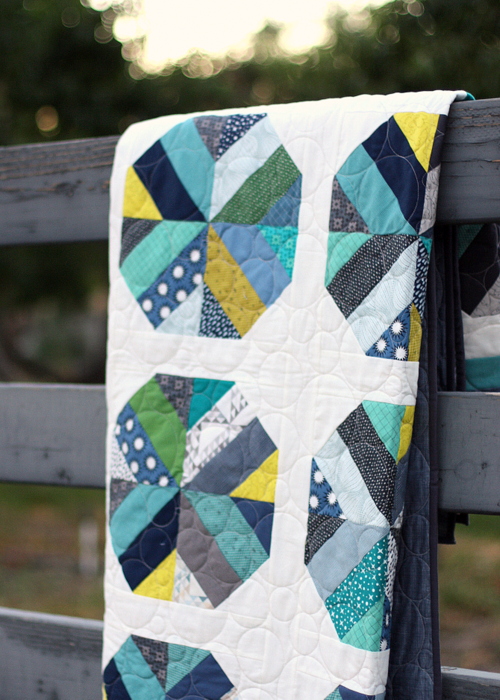 I love the way the circle quilting on this one plays off the pieced blocks. (Quilting is Bubble Play done by Sew Shabby Quilting.)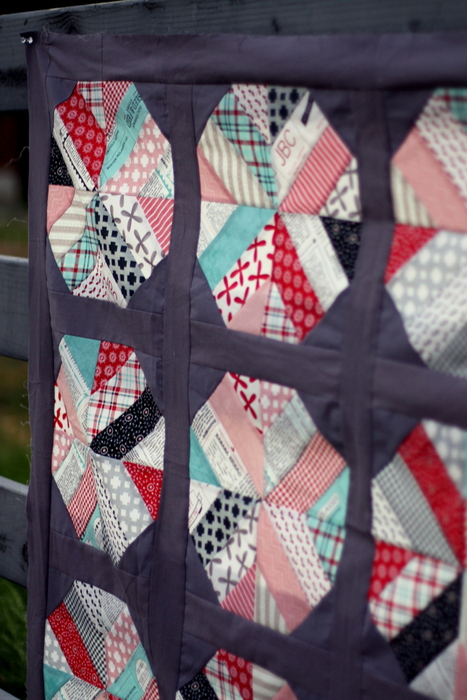 I made another version of this quilt in a crib size using charcoal gray as my background. I like the way it changes the look of the quilt. All of the 2 1/2″ strips for this one were left-over remnants from a few other projects and I LOVE the way they play together. I already want to try this pattern again in a completely different color combination. Usually I get sick of a pattern after making it a couple of times, but this one I'm already raring to do it again.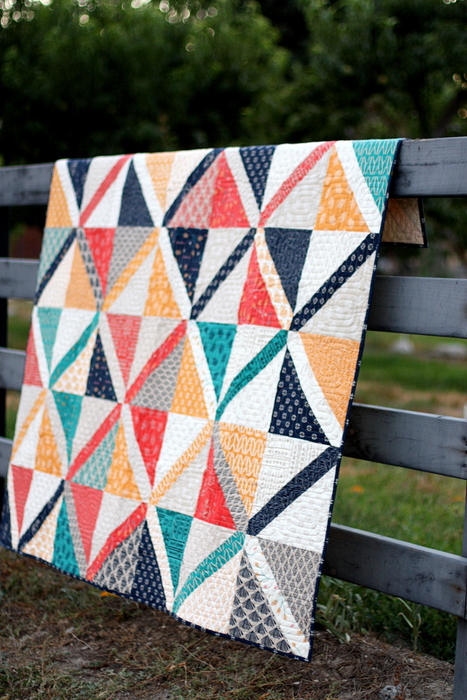 Another simple project from the class is this large Cross-hatch quilt. This one is made using 10″ x 10″ pre-cuts and 2 1/2″ pre-cuts. For this one I used Sherri and Chelsi's collection Valley for Moda. This is such a great pattern for showing off a fabric collection and letting all of the colors and prints play off each other. I think the Valley fabrics look so awesome in this quilt.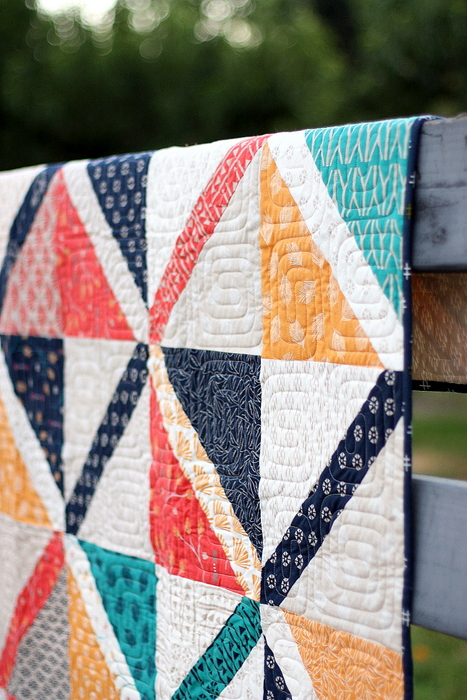 Quilting done again by Sew Shabby Quilting using one of my favorite quilting patterns called Yodel which gives the quilt some really great texture.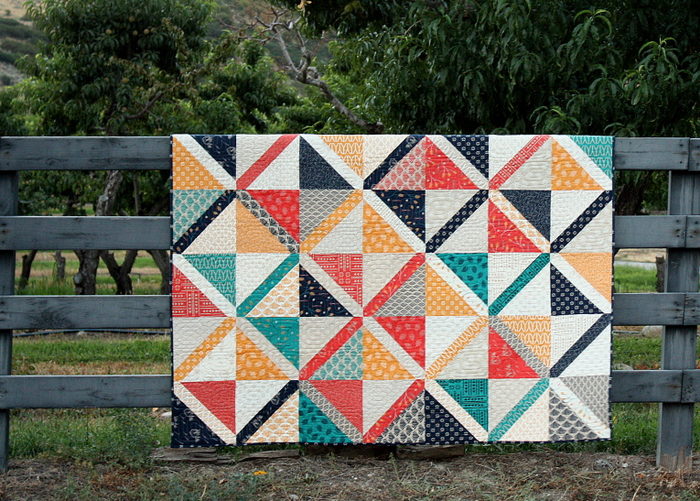 As mentioned, both quilt patterns are available in my Crafsty class Pre-cuts Short-cuts (which I can offer through my blog at 50% off.)
I have some fabric to help make these quilts left over from the filming and photo-shoot for the class. I'm giving away the two Robert Kaufman roll-ups I used in the Gumballs quilt. (Roll-ups were unrolled for promotional photos, but all pieces are in place.)
I also have a Moda Layer Cake of Valley to giveaway.   Let's keep it simple (it's the end of summer and I'm tired). If you'd like to enter, just leave a comment. Whatever you want. 😉 Giveaway open through August 17 at midnight at which point I'll randoming select a winner. First picked gets first choice of the two prizes.
(To leave a comment, click on the little number bubble at the top right, next to the heading.)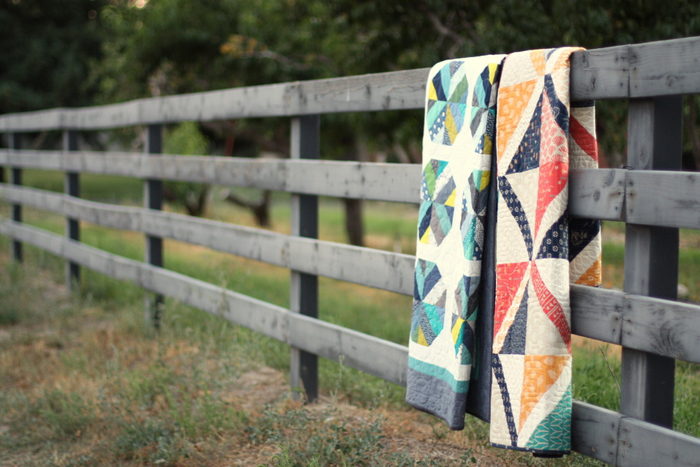 It's hard to believe summer is coming to an end. I'm having my typical mixed feelings about summer ending and school starting. Sad to miss our flexibility and all the good things summer has to offer, but at the same time looking forward to schedules and routines… maybe I can get my self quasi-organized again… we'll see.
WINNERS:
LORI MORTON August 14, 2016 at 9:26 pm
Love both your Quilts…but Gumballs is my fave!! You make the most AWESOME quilts!! Thank you for all you do & all your great Patterns!! 🙂
Thanks too…for chance to win your SUPER Give-a-way !!! 😀
ROSEMARYFLOWER 
August 15, 2016 at 8:46 am
OH AMY!! your quilts are just gorgeous, so happy and perky!!
Thank you so much for sharing these precuts by giving them away!!!
Wow. I love your quilts. I would make one!
I would be honored to receive any of these precuts from you♥️, they are all such beautiful collections.
Have a fun week. I am tired too 😀 ❀