I've got a new variation on a favorite baby crib quilt tutorial to share with all of you. I'm still a big fan of traditional star quilt blocks, and as you know, I love blowing them up to make a pretty (and fast!) baby quilt. This quilt comes together so quickly and is a great one for using up extra 10″ x 10″ precuts.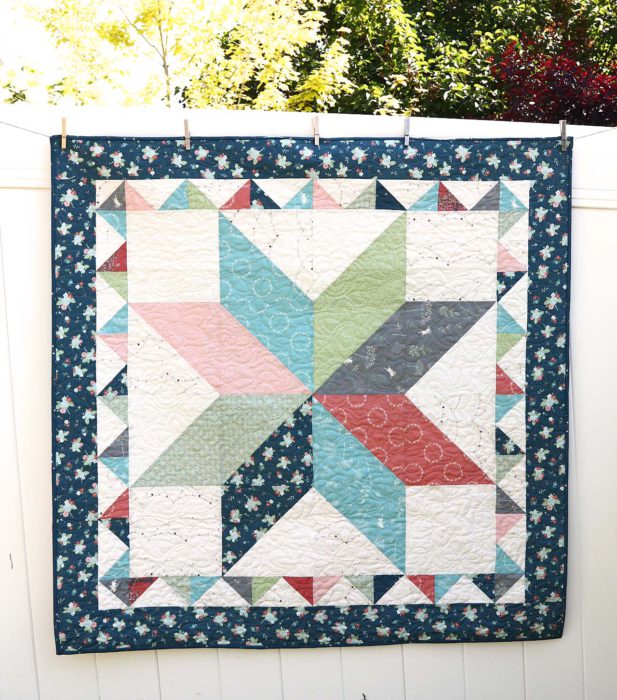 This quilt is made with a brand new collection for Riley Blake Designs called Fairy Edith by Amanda Castor of Material Girl Quilts. This is Amanda's debut fabric collection and you can read more about the inspiration for this collection here.)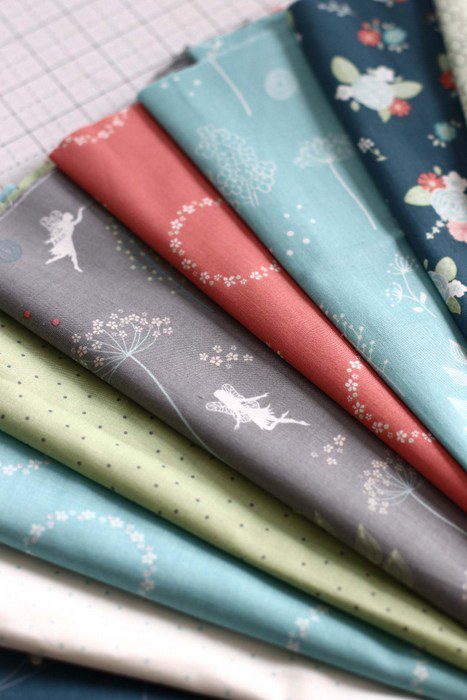 It is such a pretty collection of pastels, flowers, fairy lights and fairies. You can find Fairy Edith in stores coming any day!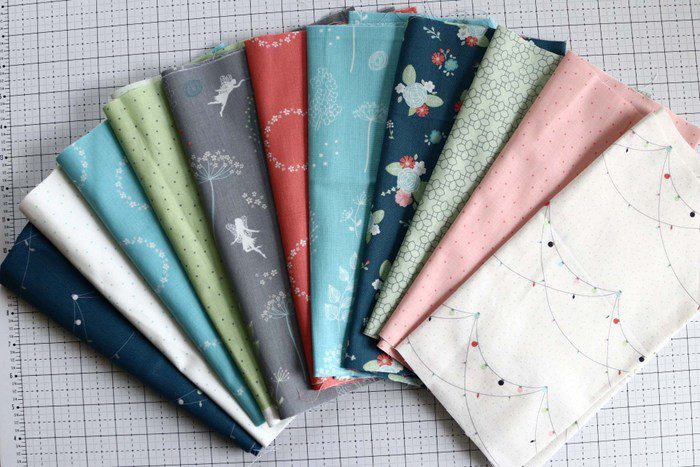 Lone Star Sawtooth Variation Crib Quilt Tutorial – 50″ x 50″
Please read through Fabric Requirements before procuring fabric as there are multiple options for this crib quilt tutorial. Listed is what I used, but other options are given below.
Fabric Requirements:
8 different 1/3 yards of assorted prints for star – from each cut 1 square 10″ x 10″ and 3-4 print squares 4″ x 4″ for sawtooth border (save remnants for backing)
2 different 5/8 yards of assorted prints for star – cut into 4 squares 10″ x 10″ of assorted lights for backgrounds and 26 light background squares 4″ x 4″ for sawtooth border
5/8 yard outside border print -cut into 5 strips 4 1/2″ x Width of Fabric (WOF)
1/2 yard binding fabric -cut into 5 strips 2 1/2″ x WOF
Backing: 1 5/8 yard + remnants from 1/3 yard prints OR 3 1/8 yards if you piece a back from one fabric
10″ x 10″ (Layer Cake) fabric alternative:
This is a great quilt for using 10″ x 10″ precuts. If you go this route pick:
15 dark 10″ x 10″ prints – save 8 prints for star and cut 7 remaining 10″ x 10″ squares into 26 squares 4″ x 4″
15 light 10″ x 10″ prints for backgrounds – leave 4 squares 10″ x 10″, trim 4 squares to 9 1/2″ x 9 1/2″ and cut the rest into 26 squares 4″ x 4″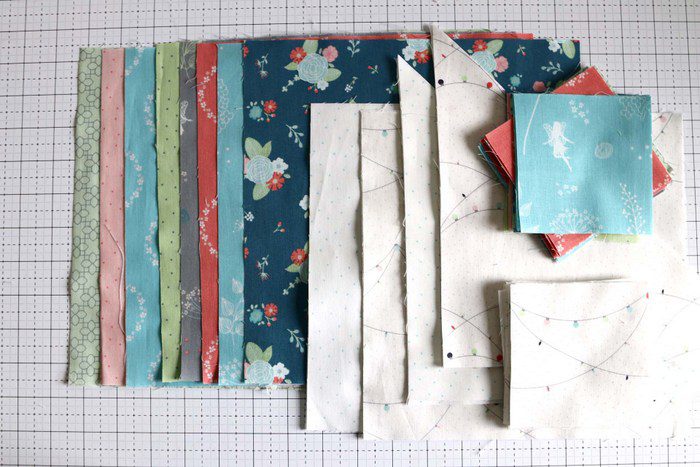 Piecing:
To get started cut 8 dark 10″ x 10″ squares and 4 light (background) 10″ x 10″ squares in half on the diagonal to get 16 dark triangles and 8 light triangles.
Using these triangles + the 4 background 9 1/2″ x 9 1/2″ squares, layout the center star portion of the quilt. Use this Lone Star tutorial as your guide.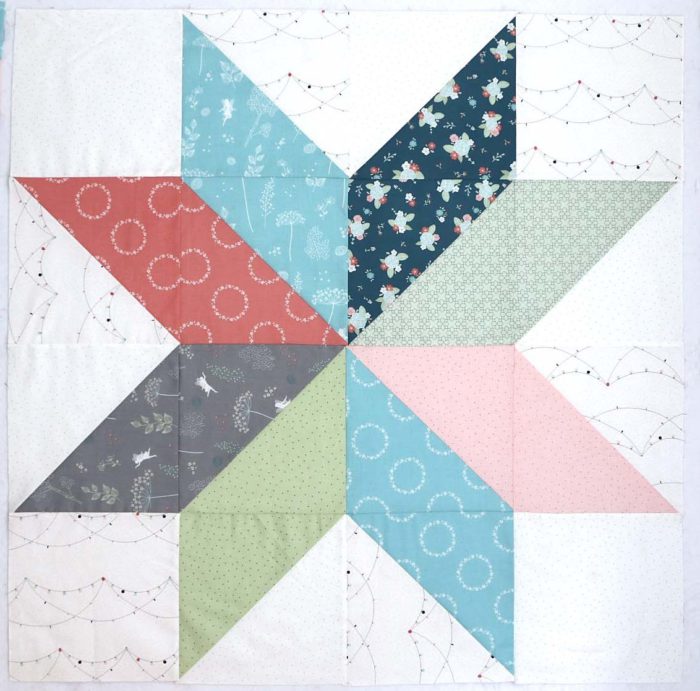 Piece the half square triangle blocks, square them up to 9 1/2″ x 9 1/2″ and sew the 16 squares into 4 rows of 4 squares.
Sawtooth Border:
The sawtooth border is made from 52 Half Square Triangle (HST) blocks. My favorite method for making HST triangle blocks (here) is to match up 2 squares right-sides together (match a print 4″ x 4″ square with a background 4″ x 4″ square) and draw one diagonal line on the back and sew a 1/4″ seam on both sides of the line.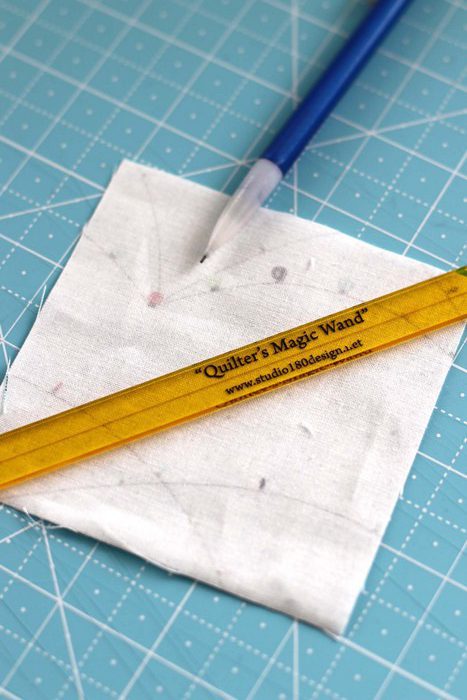 Here's another very similar variation using a nifty tool called the Quilter's Magic Wand. Line up this plastic 'wand' lining up the center line from corner to corner.
Use the wand to draw a line down both sides of the "Magic Wand" and then you can sew directly on the lines themselves. This little tool is just another option for getting accurate seam allowances.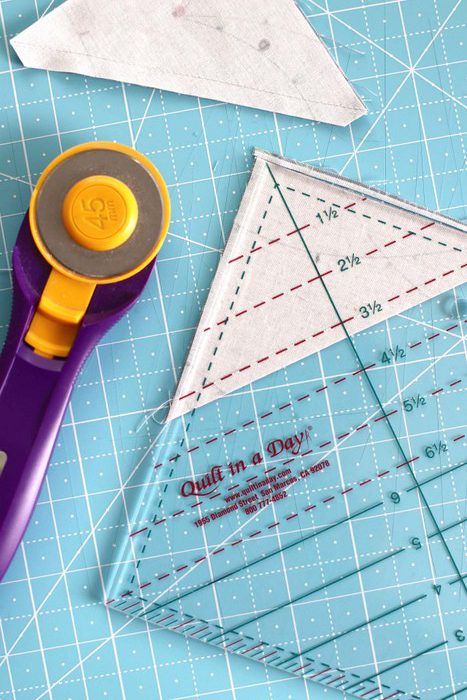 Cut the square in half on the diagonal to get two equal half square triangles. Then square up each block to 3 1/2″ x 3 1/2″. The Quilt in a Day Square Up Ruler is still by far my favorite tool for quickly and accurately squaring up HST blocks.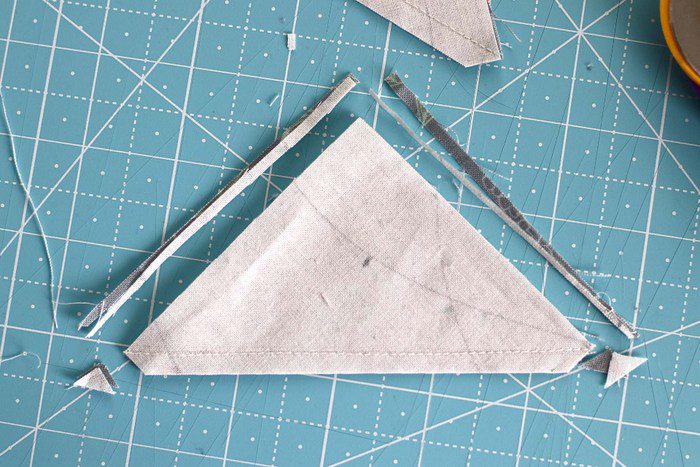 You can see more about how the Quilt in a Day Square up ruler works here.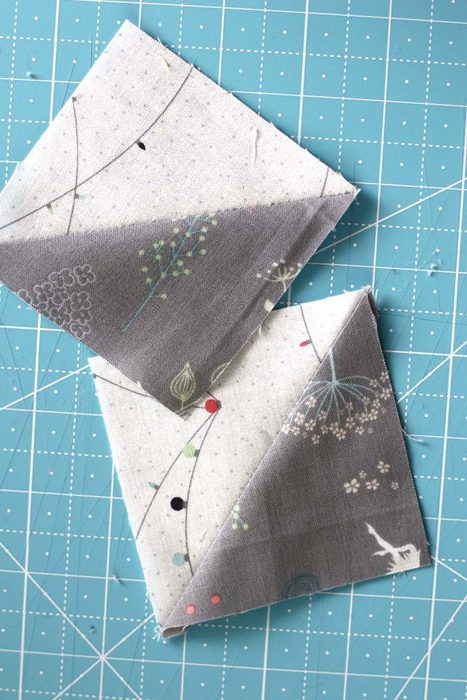 And voila – 2 perfect 3 1/2″ x 3 1/2″ HST blocks at a time. Match up remaining 25 dark 4″ x 4″ squares and light 4″ x 4″ squares to get a total of 52 assorted 3 1/2″ x 3 1/2″ HST blocks.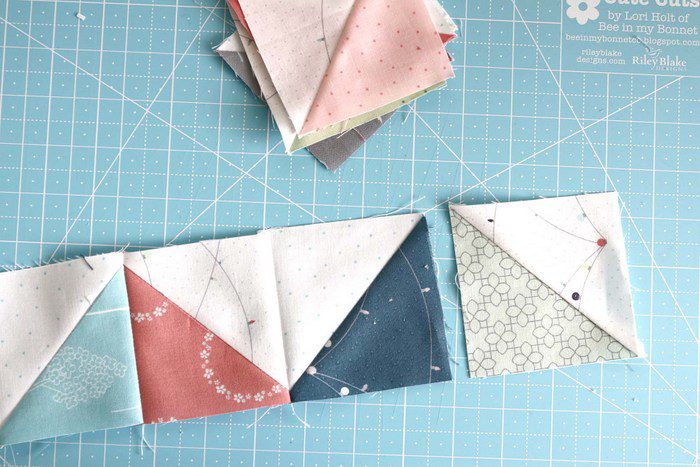 Sew together 2 rows of 12 HST blocks for side borders.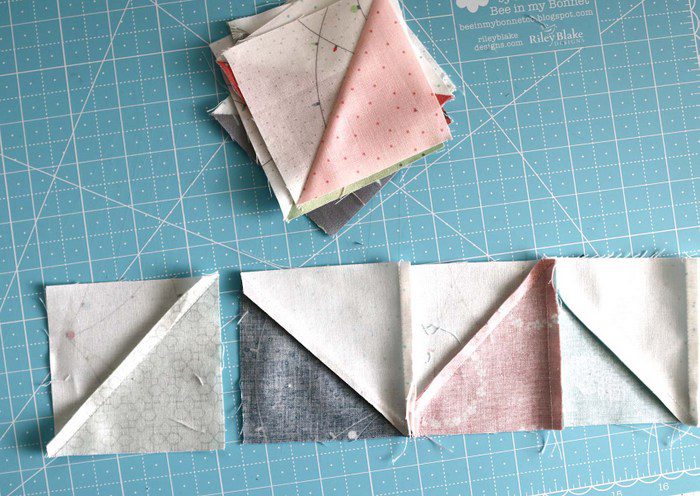 To help blocks assembly and lie flatter, press seams on the back of HST blocks alternating directions before sewing them together.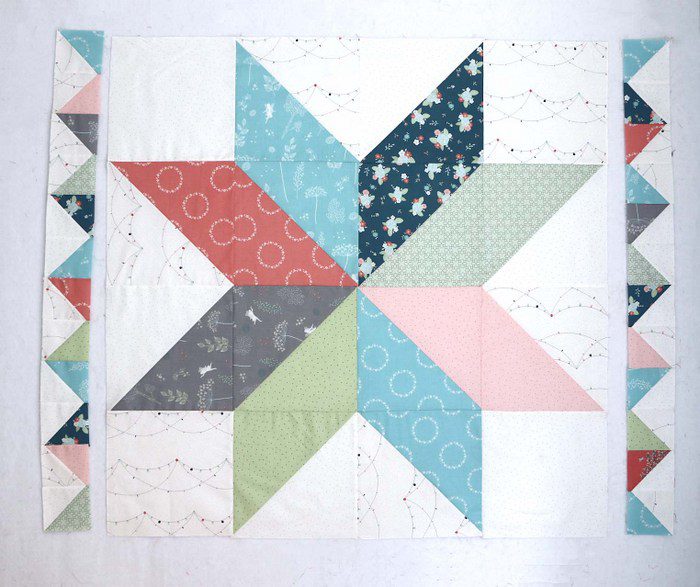 Sew two rows of 12 HST blocks to sides of quilt. Pin at the seams of the corners of the large 9″ x 9″ blocks to help keep the borders evenly distributed.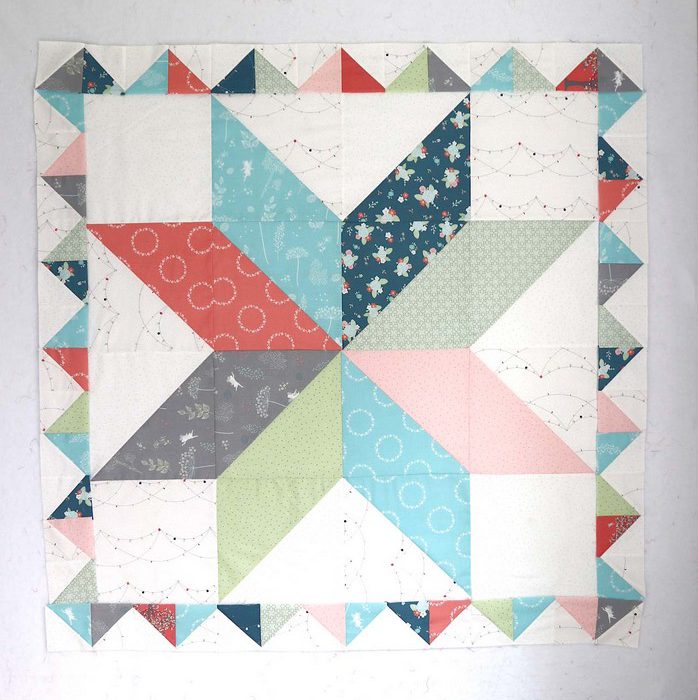 Sew two rows of 14 HST blocks together for top and bottom borders. (See photo above for direction placement guide.) Press seams toward center of quilt (this will help them lay flatter.)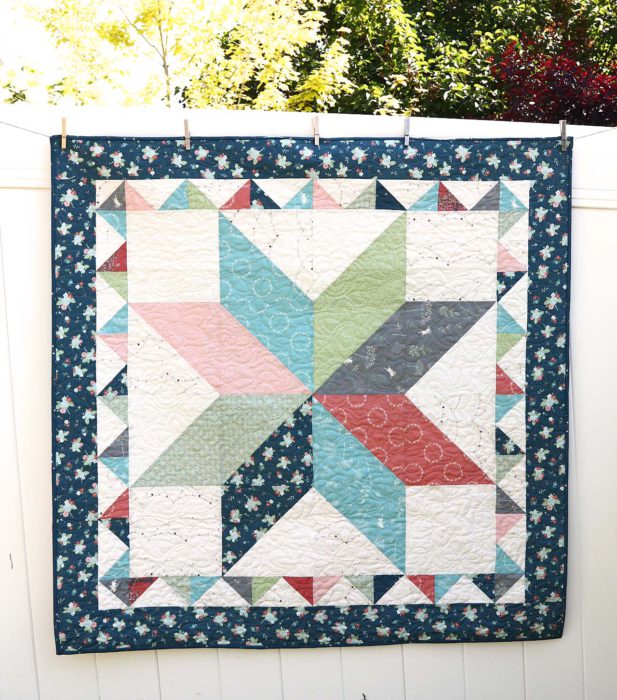 Using 4 1/2″ x WOF strips create outside border. Two border strips should measure 4 1/2″ x 36″. Pin and sew to the sides of the quilt and press seams toward outside border. The remaining top and bottom border strips should measure 4 1/2″ x 50 1/2″ (you will have to piece these together to get them the right length). Pin and sew to the top and bottom of the quilt and press seam toward the outside borders.
OR use my favorite border shortcut found here to quickly add your borders.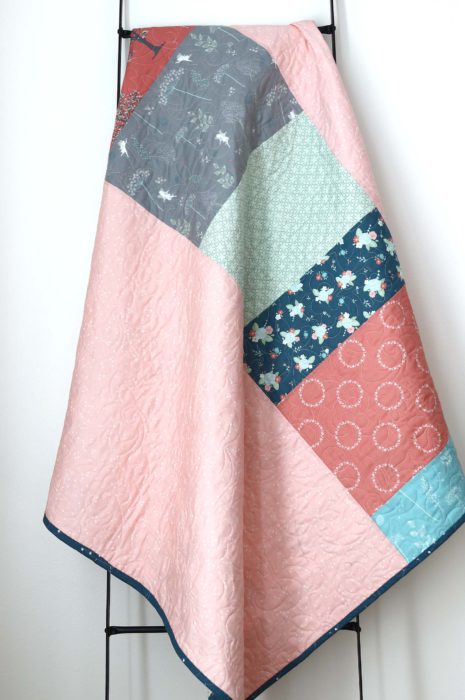 Custom Pieced Backing:
Because this quilt is wider, it will require more fabric (which seems like a really obvious statement). In order not to have to buy a lot more yardage, I like piecing a back using leftover remnants from making the front of the quilt.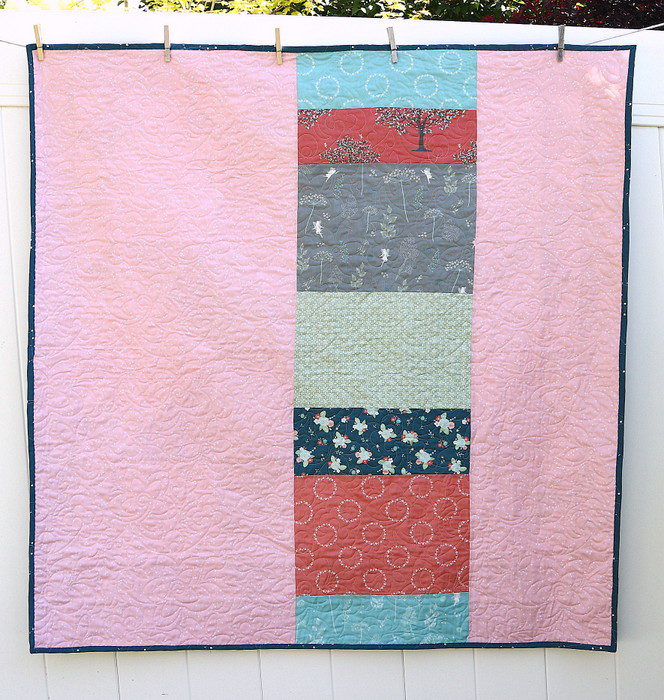 For this version I used a 1 5/8 yard of Blossom Basic in Peaches n' Cream and the remnants of the yardage I used to make the front of the quilt. I cut 15″ wide pieces of varying lengths from the assorted remaining yardage and sewed them into a tall, 15″ wide pieced strip. Then I cut the Blossom fabric lengthwise about 2/3 of the way from the edge (this doesn't need to be exact) and sewed the pieced strip in between the 2 pieces of Blossom pink fabric. Press seams toward away from the pieced strip.
OR you can take 3 1/8 yards and cut the yardage in half to get two pieces 56″ x WOF. Trim selvage edges off two sides and piece together to create a 56″ x 80″ backing. (You will have leftover backing yardage.)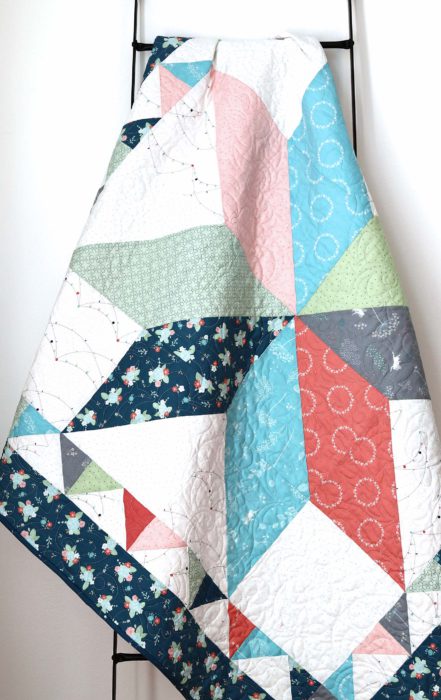 Baste and quilt as desired. You can find information for basting and quilting here.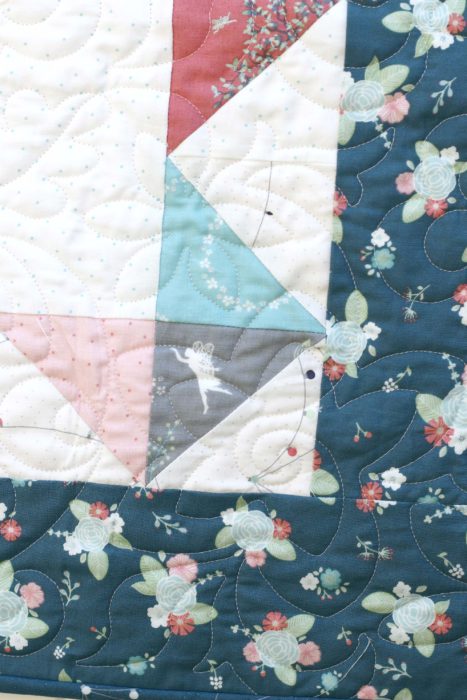 Or take it to your favorite quilter. I had Melissa of Sew Shabby Quilting quilt this one for me using the Botanical Blossoms design and it turned out perfect for this quilt!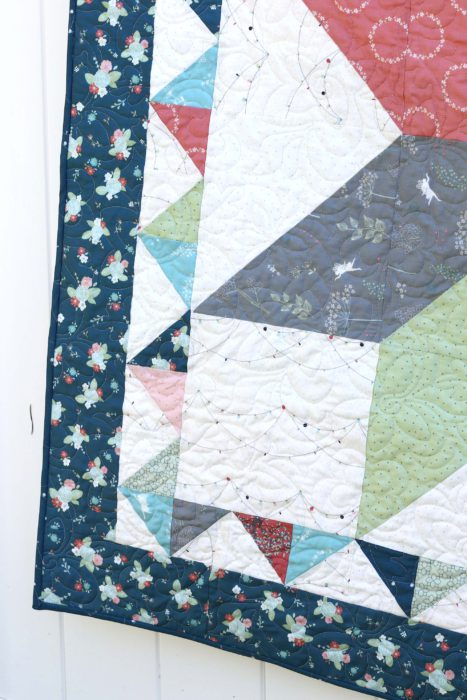 To bind a quilt, sew the 2 1/2″ x WOF strips together end to end. This tutorial shows everything you need to know how to finish a quilt.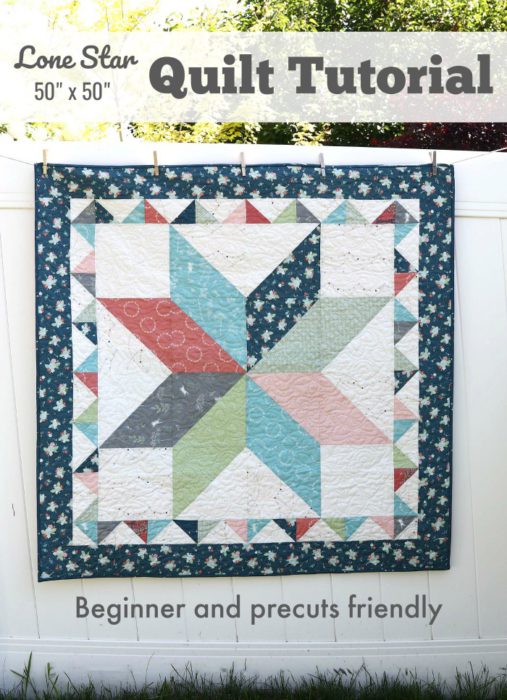 There you go! Another fun variation on one of my favorite classic Lone Star quilt blocks. And I love SO much how it turned out in the Fairy Edith fabrics. I also love how quickly it came together! It really was a fast finish. Let me know if you try one of your own!
If you like it, you can pin this image for later or to share it with a friend! Also, check out this post for other big star baby quilt variations.
(Printable PDF version of this pattern coming soon.
*this post contains affiliate links
Loving this crib quilt tutorial feature? Take a look here for more of my quilt favorites!