If you're looking for a fast, beginner-friendly quilt tutorial, you're in the right place! This simple pattern is perfect for showing off novelty prints, like the ones in Heidi Staples Five & Dime collection for Riley Blake.
This fabric collection is a retro-inspired look at the nostalgia from the original Five & Dime corner shops.
The motifs include vintage toys, packaging, tags, and receipts. It's the perfect fabric for fussy-cutting! You can read more about Heidi's inspiration for Five & Dime as well as see images of all of the prints in this post.
Because the prints are so fun to look at, I wanted to create something that really let the fabric show-off – and do the work! So I came up with a very simple, beginner-friendly quilt tutorial that is easy to put together, but also really let's the fabric speak for itself.
Here is the fast and easy, Five & Dime Quilt! This quilt would work well with lots of fabrics and could easily be a scrappy, colorful quilt. After stacking up the fabric in color order, I decided I really wanted to keep the fabric in that rainbow spectrum.
Here are the fabric requirements to make this 39″ x 53″ crib quilt:
18 print squares 7 ½" x 7 ½" (I also mixed in some solids)
17 print squares 5" x 5"
1 ¼ yard solid white
⅜ yard binding
1 ¾ yard backing (this is feasible but if you're worried about not having enough space on either side for quilting, get 2 ⅓ yards)
Sub-cut white fabric:
2 strips 5" x width of fabric (WOF) – cut into 34 strips 1 ¾" x 5"
2 strips 7 ½" x WOF – cut into 34 strips 1 ¾" x 7 ½"
5 strips 2 ½" x WOF (for outside border).
Piecing:
Sew 2 white 1 ¾" x 5" strips to top and bottom of 5" x 5" print square. Press seams toward print square.
Sew 2 white 1 ¾" x 7 ½" strips to remaining sides of print square. Press seams toward print square.
That's it! Repeat to make 17 of these framed-print blocks.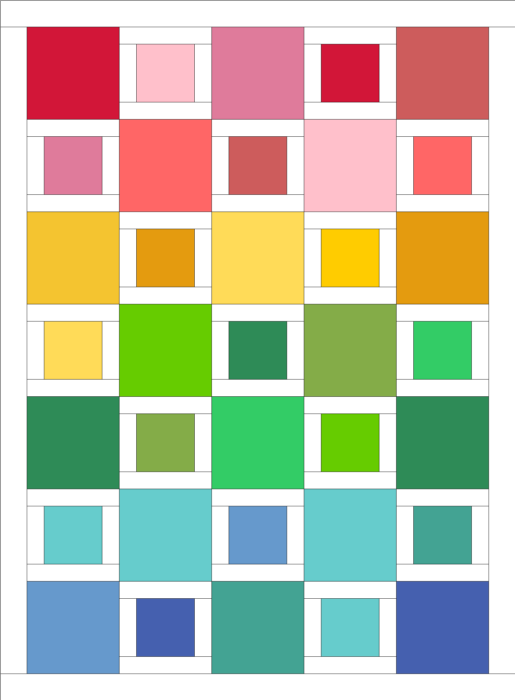 Layout quilt in 7 rows of 5 blocks each, alternating 7 ½" x 7 ½" print squares and 7 ½" x 7 ½" pieced squares. (See Diagram above.)
Sew blocks together in rows, pressing seams toward the 7 ½″ x 7 ½″ print squares. Sew rows together in order. Seams should nest nicely helping to match up your points.
Borders:
Use 2 ½" x WOF strips to add outside borders. Press seams toward borders.
Quilt and Bind. Here's my back – I had fun keeping up the spectrum them and piecing prints and solids for a scrappy back. And I love the way the playful Bubbles quilting by Melissa of Sew Shabby Quilting give texture to the relatively simple pattern of this quilt and how they show up so well in the solids on the back.
If you would prefer:
Such an easy-peasy, beginner-friendly quilt tutorial – but when you use fun, busy prints like the ones in the Five & Dime collection, the quilt looks much busier. These cute, detailed prints give the quilt a fun I-Spy quality too.
You must checkout the other stops on this tour because the projects are absolutely adorable. These women are so talented and really take these fun prints and show some of the amazing work that can be done fussy-cutting them. (I'm especially smitten the way Elea used some clever fussy-cutting to make adorable gift tags. I could do that!) Can't wait to see what Minki and Heidi have up their sleeves to share!
Thanks again for stopping by! Reminder – the printable PDF version is available here if you're looking for more size variations!